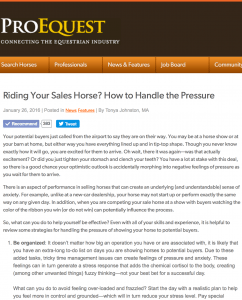 Appeared on ProEquest.com, January 2016
By Tonya Johnston, MA
Your potential buyers just called from the airport to say they are on their way. You may be at a horse show or at your barn at home, but either way you have everything lined up and in tip-top shape. Though you never know exactly how it will go, you are excited for them to arrive. Oh wait, there it was again—was that actually excitement? Or did you just tighten your stomach and clench your teeth? You have a lot at stake with this deal, so there is a good chance your optimistic outlook is accidentally morphing into negative feelings of pressure as you wait for them to arrive.
There is an aspect of performance in selling horses that can create an underlying (and understandable) sense of anxiety. For example, unlike at a new-car dealership, your horse may not start up or perform exactly the same way on any given day. In addition, when you are competing your sale horse at a show with buyers watching the color of the ribbon you win (or do not win) can potentially influence the process.